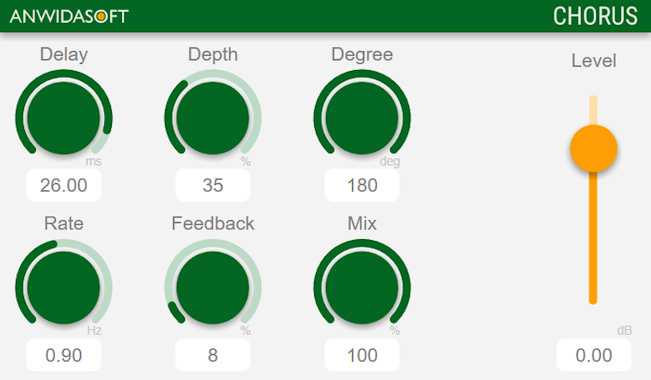 Win 7 - Win 11
VST3 (64-bit)
OS X 10.10 – macOS 12
VST3, AU
$12
Chorusing is an effect that creates the impression that a given part is being played by more musicians together. Usually It is used to sweeten and widen the sound of an instrument.
As for a flanger, it is produced by mixing the incoming audio signal with a delayed time-varied copy of itself. Unlike flanging, the chorus delay is wider (>8ms).
The Chorus plugin is a four voices chorus (two stereo pairs).
64 bit internal precision
highly optimized DSP code
ultra clean and noiseless processing
factory presets
parameter values can be entered manually
fully automatable (depending on host application)
stereo output (stereo->stereo)
HiDPI monitor support (depending on host application)
no hardware license dongle or activation required
Windows 7 - Windows 11
VST3 (64-bit)
OS X 10.10 (Yosemite) – macOS 12 (Monterey)
VST3, AU (Universal 2 Binary)
VST is a trademark of Steinberg Media Technologies GmbH, registered in Europe and other countries
…the plugs are working very well, responding perfectly to heavy automation with virtually no CPU drain. Excellent work!
The best set of modulation plug-ins I have heard.
musician / audio engineer
Wow, I had no idea the plug-ins were this great! I have worked with them on a 1 minute drum track for a few hours and I am amazed at the quality. I am sold, these are the plugs needed to create pro sound within host recording apps.
EXCELLENT WORK!…this plugin pack works fantastically in the SAW environment…the automation possibilities with this pack make it a superior choice for the SAWStudio user..
Journalist to EQ, Future Music, SOS, MacFormat, PC Live!
Beautifully conceived, Anwida plug-ins never disappoint. Highly recommended!
The sound is Very good. Nice combinations of old mod sounds and new funky stuff…The chorus is very rich and smooth.. Sounds great…The delay is also very nice and the whole set is in sawstudio Native format, so its totally automatable…They simply use NO processing power on my 1.6 gig system…
Fixed: rare UI glitches on some DAWs (e.g. FL Studio)
Fixed: blank UI with custom display scaling on HiDPI monitors
Improved: new demo mode (sine tone replaced by silence)
Improved: smoother parameter changes
Improved: performance optimization
Fixed: low volume level on some DAWs (e.g. PreSonus Studio One)