Win 7 - Win 11
VST3 (64-bit)
OS X 10.10 – macOS 12
VST3, AU
$49
The GEQ31V is a professional graphic equalizer plug-in.
It enables the addition of 12 dB of boost or cut at any of 31 bands centered around ISO 1/3 octave frequencies from 20Hz to 20kHz. This features make the GEQ31V the ideal tool for equalizing mixes and audio tracks.
The perspective used in designing the GEQ31V was to obtain the warmth of a classic analog device with the clarity and the accuracy of the digital domain processing. This was achieved adopting the best analog equipment topology.
31 bands (standard ISO 1/3 octave), constant Q eq
freq. @ 20,25,31.5,40,50,63,80,100,125,160,200,250,315,400,500,630,800,
1k,1.25k,1.6k,2k,2.5k,3.15k,4k,5k,6.3k,8k,10k,12.5k,16k,20k [Hz]
extremely transparent action
64 bit internal precision
highly optimized DSP code
ultra clean and noiseless processing
factory presets
fully automatable (depending on host application)
stereo output (stereo->stereo)
HiDPI monitor support (depending on host application)
no hardware license dongle or activation required
Windows 7 - Windows 11
VST3 (64-bit)
OS X 10.10 (Yosemite) – macOS 12 (Monterey)
VST3, AU (Universal 2 Binary)
VST is a trademark of Steinberg Media Technologies GmbH, registered in Europe and other countries
MORE DETAILS
A graphic equalizer is a powerful tool that characterizes and enhances audio signals. Technically it is composed of a bank of band-pass filters, each with a fixed center frequency and a variable gain. This kind of processing unit is called "graphic" since the position of the slider resembles the frequency response of the filters bank. Thus its usage is extremely intuitive: moving the slider up boosts a selected band, moving it down cuts it.
The GEQ31V uses high quality constant Q digital filters. This allows the isolation of every filter section from the effects of the amplitude with respect to center frequency and bandwidth. The result is an accurate control permitting each band not to affect the adjacent ones.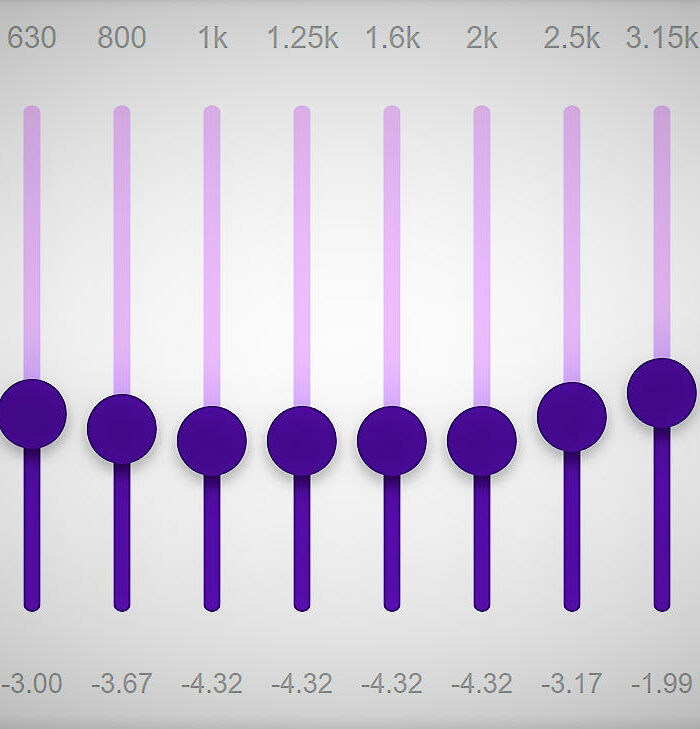 Journalist to EQ, Future Music, SOS, MacFormat, PC Live!
Beautifully conceived, Anwida plug-ins never disappoint. Highly recommended!
I wanted you to know that they are fantastic! Just what I need for the voice work that I do. Thanks for making me sound GREAT!
GEQ31V is fantastic. It has a beautifully smooth tone. The 20k band does exactly what I would want it to do – roll off the top end similar to a lowpass filter without damaging the character of the source.
musician / audio engineer
Wow, I had no idea the plug-ins were this great! I have worked with them on a 1 minute drum track for a few hours and I am amazed at the quality. I am sold, these are the plugs needed to create pro sound within host recording apps.
In practice, both equalizers performed admirably, and the sound quality is excellent, if not totally uncolored. AnwidaSoft have done an excellent job with these units. They look sharp, and sound great. The CPU usage is low enough to run a number of them on different channels. When I need a quality EQ, I find that I am repeatedly turning to these guys. …you might certainly want one or both of them, as they take some of the guesswork out of the everyday EQ tasks, and may sound better than the EQs that came bundled with your host. No matter what your host is, if your current equalizer seems overly confusing to you, these might just be a necessity.
James A. Putnam and Dennis L. Trunk
…As with a hardware unit, you can simply start pressing buttons and turning knobs to see what sounds you get. It couldn't be easier…we found that the sound quality is exceptionally clean and clear, and that, whether we used the presets or any of our own settings, both EQs can powerfully re-shape the character of virtually any sounds fed through them…The easy usefulness and the comfortable feel of these EQs make them attractive and reliable for everyday use. Either one would make an excellent addition to any musician's set of effects tools.
Fixed: rare UI glitches on some DAWs (e.g. FL Studio)
Fixed: blank UI with custom display scaling on HiDPI monitors
Improved: performance optimization
Improved: smoother parameter changes
Fixed: low volume level on some DAWs (e.g. PreSonus Studio One)
Improved: new demo mode (sine tone replaced by silence)