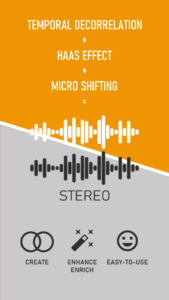 After the release of Stereoid, we are thrilled to announce the release of its "little brother" Stereoid Light.
Stereoid Light – stereo upmixer, imager and enhancer – distills the essence of Stereoid, into a minimalistic plugin, while perfectly preserving its sound quality.
Stereoid Light turns your monophonic audio into a thick and fat, dimensional stereo track. Your music on steroids.
A subtle decorrelation algorithm coupled with a precise custom microtonal detuner and delay offers you a wide effect palette to enhance vocals, lead lines or complete mixes.
Thanks to its fully mono-compatible stereo widening algorithm, Stereoid Light is the tool for mono upmixing and stereo mastering.
Stereoid Light belongs to the SMARTLINE family. A series of plugins conceived according to our motto "your sound without any unnecessary complications".
Tons of features packed in compact and ultra-usable plugins.
Stereoid Light is a VST3/AU plugin and comes with a signed installer for Windows and signed/notarized installer for OS X/macOS. It loads natively in macOS running on Apple Silicon.
Intro Price: Only $9
Yes, it's the 69% off the full price. And it won't happen again!
Stereoid Light is FREE with the purchase of Stereoid.
Intro Price: $9 (Reg. $29) until May 31st, 2022 11.59 PM CET.