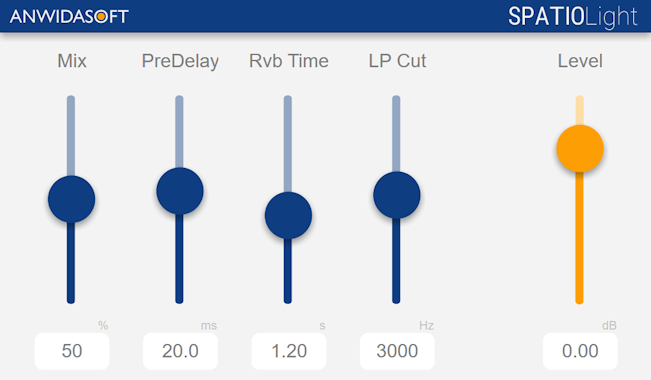 Win 7 - Win 10
VST3 (64-bit)
OS X 10.10 – macOS 11
VST3, AU
SPATIO Light, heir of the renowned DX Reverb Light reverb, is the ULTIMATE FREE reverb plug-in. It provides astonishing quality and extreme flexibility, allowing you to simulate from small rooms with sudden attacks and coloration characteristic of small spaces to large natural-sounding spaces with spread attack and build of a concert hall.
64 bit internal precision
highly optimized DSP code
ultra clean and noiseless processing
factory presets
parameter values can be entered manually
fully automatable (depending on host application)
stereo output (stereo->stereo)
Windows 7 - Windows 10
VST3 (64-bit)
OS X 10.10 (Yosemite) – macOS 11 (Big Sur)
VST3, AU (Universal 2 Binary)
VST is a trademark of Steinberg Media Technologies GmbH, registered in Europe and other countries
producer / audio engineer
Higher Sphere Music
SPATIO Inverse plugin is absolutely the best one I used on vocals for this kind of effect.
I particularly like the plates – they're nice and silky with voice, and aggressive with snares – but the halls are equally satisfying…This fine-sounding reverb is versatile enough that you're bound to find something that works for you among the 47 presets. If not, a little tweaking will get you there
I really like this reverb. Especially unique among reverb plug-ins are elements like plates and gates, they sound wonderful. The DX Reverb is a model plug-in with a lot of substance rolled into an intuitive, compact UI. Great job!
Journalist to EQ, Future Music, SOS, MacFormat, PC Live!
Beautifully conceived, Anwida plug-ins never disappoint. Highly recommended!
grammy-winning artist / producer
This freeware verb is frighteningly good! If nothing else, it's absolutely worth the time for the free download. This little reverb sounds simply amazing…
musician / audio engineer
Wow, I had no idea the plug-ins were this great! I have worked with them on a 1 minute drum track for a few hours and I am amazed at the quality. I am sold, these are the plugs needed to create pro sound within host recording apps.
Fixed: the tail was cut at playback stop and MIDI note off on some DAWs
Fixed: rare UI glitches on some DAWs (e.g. FL Studio)
Fixed: blank UI with custom display scaling on HiDPI monitors
Improved: smoother decay
Improved: more refined bass response
Improved: more accurate stereophonic image
Improved: performance optimization
Added: new presets
Fixed: low volume level on some DAWs (e.g. PreSonus Studio One)